At the 2011 ATA show we had a chance to chat with CJ Davis from Nikon Sport Optics and although this show is pretty focused on Archery CJ was happy to show us the new scope from Nikon just for coyote hunters- the Coyote Special.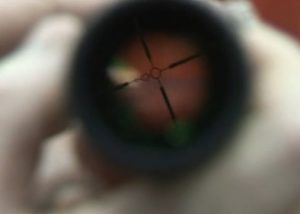 So what makes the Coyote Special so special? It comes in a 3-9×40 or a 4.5-14×40 with two different camo patterns (Real Tree & Mossy Oak).  
The cool thing about this scope is it is specifically built to hunt coyotes with. It allows for fast target acquisition It has a special BDC Predator Retical in it and features circles instead of a cross-hair.  The unique circle aiming design doesn't obscure the target making it easier to shot at and hit a moving coyote.  Nikon also coats the lens  to boost light transmission up to 92% and has equipped this scope with a quick focus eyepiece that allows the shooter to instantly bring the reticle into sharp focus.