Introduction: Predator Calling
Whether you are an experienced hunter or an aspiring beginner with high expectations of your hunting game, you would do well to introduce yourself to predator calling, the art of using your prey's sense of hearing to your own advantage. Due to innovations in technology, you can easily access the benefits of calling without having to invest your time in lengthy practice and the time consuming trial and error that was practically a given with normal, old school calls. Modern, electronic predator calling devices are much safer, much less demanding and have high consistency allowing you to focus completely on the hunt.
Investing in a high quality electronic call make your hunting trips much more enjoyable and rewarding, as you will more than likely increase your number of successful kills considerably. Companies all around the world have realized that and have made many such products to capitalize on the growing need for quality calls. One company, however, stands out.
Enter FoxPro
FoxPro is a leader in hunting accessories, with a plethora of innovative products and designs under its belt. Evolving all the way from a single man operation back in 1993 to a more than 70 person company, its cutting edge products are now sold on a worldwide range. Having successfully cooperated with numerous institutions, universities, government agencies, oil refineries and even the United States military it has well expanded beyond the closely limited predator hunting community.
Each new designed is repeatedly researched, tested and refined by the company's specialist leading to continuous spurs of improvement in electronic hunting accessories products. Their game call brands are of an elite quality and will give you an enormous edge against your hunting competition, setting your hunting game well within the next level.
Although FoxPro has created a great number of successful game call brands, including Deadbone, Inferno and Shockwave there is none that really compared with the good old FoxPro Fury II Game Call, the most advanced digital game call that has ever been produced.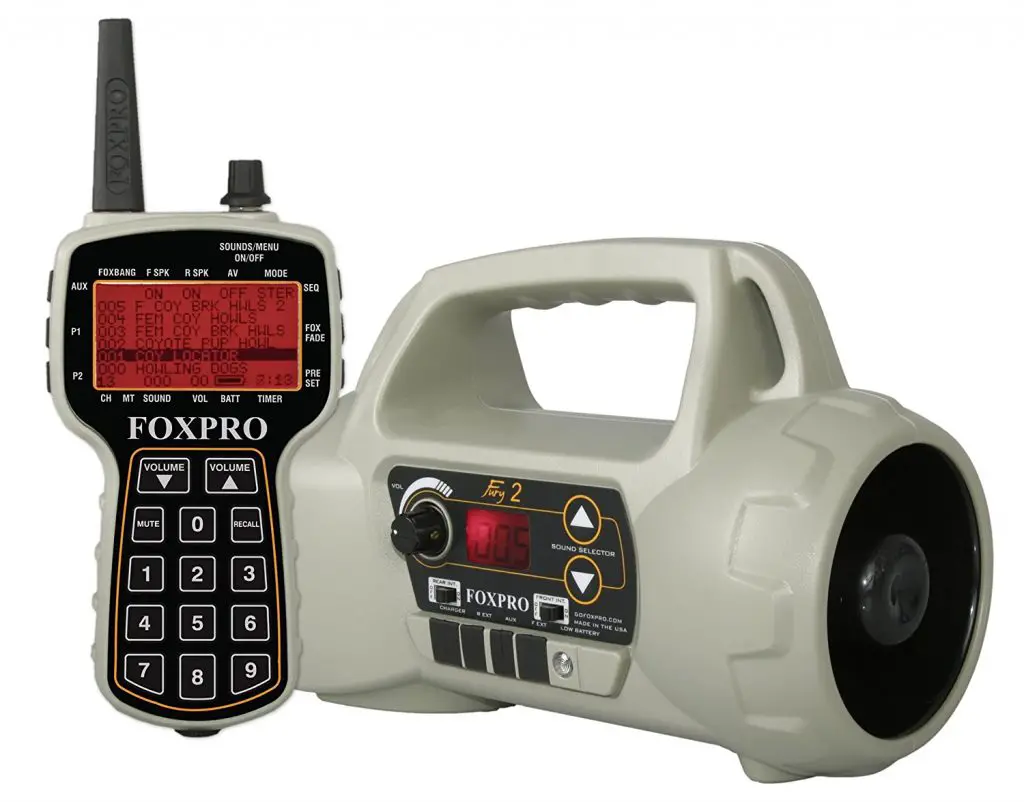 Technical Information:
Stereo or Mono operation
16 channels of remote operation
Backlight intensity control
Continuous, sequential and single play mode
Wireless data transfer
Internal and external speaker control
8 AA batteries, which are required for the   speaker unit
AA batteries, which are required for the controller.
A remote range that is up to several hundred yards long.
100 pre programmed sounds, including: coyote pup howl, female coyote bark howl, howling dogs, coyote male challenge scream, coyote pup screams and baby red fox distress call.
What we really like about the FoxPro Fury II is how easy it is to use and successfully implement to your hunting trips. Its internal memory – 4 giga bytes – allows you to store up to five hundred different sounds. That being said, however, we find it extremely unlikely you won't be instantly satisfied with the preexisting one hundred sounds the base package has had already installed. Still, in case you want more, the option is there.
Another feature we liked is not that only does the 24 bit audio produce lifelike quality sounds, but the device has a very long remote range, going all the way up to several hundred yards. Thus, a hunter can easily stay hidden and covered while using their remote to activate the call, ensuring they will stay out of their prey's sight.
And then there is the product's amazing sequence capability. You can easily program a particular sequence you like, stacking different sounds of different volumes one right after the other – FoxPro Fury II will do the rest. Moreover, due to its FoxBang technology, the device can accurately follow up your gun shot automatically, with your number one preset predator call, confusing the animal and allowing you for an extra chance at gunning down any remaining predator trying to run away.
Conclusion
There is no denying that this state of the art device is the King on the market of electronic predator calls. There is zero chance this will in any way not satisfy you. If you are interested in purchasing this product, you will quickly find out that it is somewhat expensive compared to other electronic calling devices. Well, they say you get what you pay for. If you are really looking for the best, you have to pay for the best. Do not sell yourself short. This is exactly what you need if you really want to improve.