Introduction
Hunting is no simple sport you can easily get into. There have been many instances of accidents where hunting trips went wrong and resulted in unfortunate human deaths. The necessity of consulting your State's hunting laws and regulations can not be stressed enough. For aspiring, over-eager hunters it is important to realize that wielding a gun and the ability to spread death comes with great responsibility. It comes, as they say, with the territory. They must exercise restraint in themselves and follow the in-state written laws and regulations while also being in accordance with the proper hunting ethics. Failing to do so will inevitably, inexorably result in trouble in some point or another.
Read the following article to learn all you need to learn about hunting coyotes in Ohio. If you want to consult the laws and regulations in detail, you are free to see them fully presented in the government's respective site.
General Hunting
Immediately upon harvest of an animal or bird, hunters are legally obligated to record both the time and date of the harvest on the temporary kill tag and attach it to the carcass. The kill tag must not be in any case made illegible by any condition. Thus, hunters must have a protective item in their possession to secure the kill tag from any harm.
When hunting in private land, the landowner's written permission is required for both hunting and trapping on said land, regardless of whether the land is posted. The hunter has to hold the written permission at all times and exhibit it upon request by the respective authorities.
All hunting from motor vehicles, except boats and machinery being used in farm operations is prohibited. So is the practice of spotlighting from vehicles.
It is unlawful to shoot from, on, across, or along a public road or highway. So is the hunting of any wild animals, with the exception of waterfowl, thirty minutes before sunrise to thirty minutes after sunset during the youth deer gun season, deer gun season and the deer muzzle-loader season.
Depending on the weapon's shooting range, a permit for shooting may or may not be required for shooting.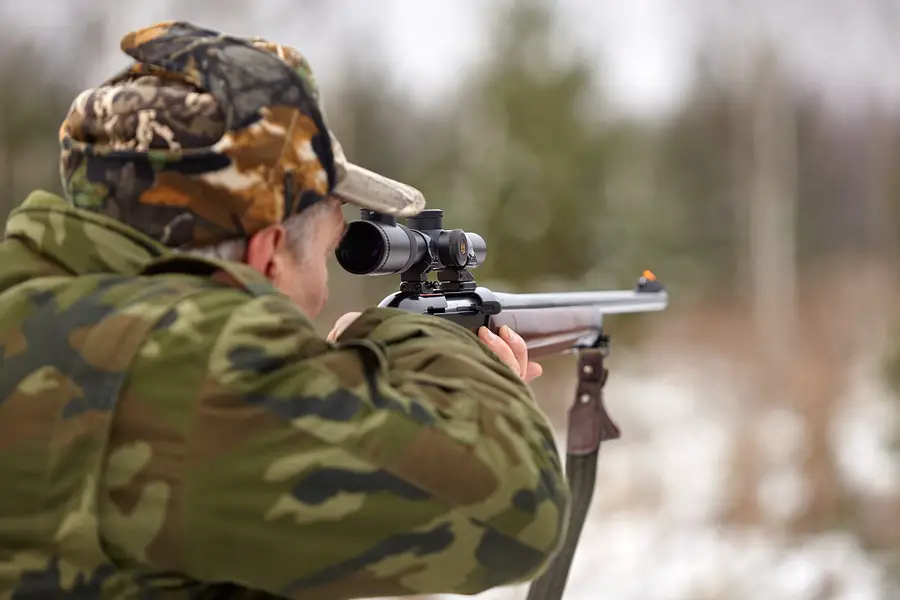 Licenses
Licenses are available at all authorized license sales agents and online at wildohio.gov. Regardless of age, all hunters must carry a valid hunting license to hunt and/or trap in Ohio.
Everyone applying for a hunting license must successfully undergo a hunter education course. This includes both instructions on guns and how they work and education of the ethics and responsibility of hunting.
Apprentice hunting licenses and permits allow new hunters to experience hunting under the mentorship of a licensed adult prior to completing a hunter education course. No one may purchase more than three such licenses in their lifetime.
If you lose your right to hunt, trap or fish in Ohio, according to the Interstate Wildlife Violator Compact, a person loses their respective privileges in all of the other member states. It is the hunter's responsibility to check with any other state before commencing to hunt, trap or fish in order to ensure that they have not lost their privileges there as well.
Coyote hunting
The lawful hunting equipment for coyotes includes the following: Longbow or bows – as well as compound bows, recurve bows and crossbows. Handguns, rifles of any caliber, as well as any air-gun. Finally, shotguns are allowed as long as they stay at 10 gauge or smaller.
If hunted during the deer gun season, hours and legal hunting devices are the same as for deer gun season. Rifles and night vision scopes are legal for coyote hunting, however, rifles and night hunting between 30 minutes after sunset and 30 minutes before sunrise are considered unlawful during any deer gun and deer muzzle-loader seasons.
There is no specific, open season for coyote hunting and there is no daily bag limit.
Youth Hunting
All youth hunting opportunities, except the youth waterfowl hunting season, are available to young hunters possessing a valid, youth hunting license.
Every young hunter participating in youth hunts has to be accompanied by a non-hunting adult. They can be any person, with or without a hunting license, aged 18 or older that will accompany the young hunter to and from the field and remains present while the young hunter engages in hunting. The non-hunting adult may not possess any hunting implements.
No more than two young hunters per adult supervisor are allowed.