A tactical bag is an essential gear for a hunting expedition. However, not just any backpack can serve the purpose. Many manufacturers concentrate on durability and interior size but skimp on important features that make a seamless tactical bag. A hunting activity requires a slim, compact backpack that fits squarely on your back and accommodates all the essentials and accessories that you need. Here are 7 best tactical bags that you should consider for a great outdoor experience.
Made of Oxford nylon fabric, this tactical bag is stronger than many of its competitors. It comes with an expansive interior and more pocket size. Ideal for hunting enthusiasts, this bag offers great security for accessories and essentials. Its quality material zippers ensure that nothing slips out once inside. The exterior PALS webbing feature makes it perfect for small equipment, with an internal division that makes it easier to organize your items. The cushioned hit support makes it stable once in place. You can get this bag at Amazon. Notable features of this tactical bag include:
Adjustable and detachable shoulder strap
Main compartment size: 10x7x4 inches
Sturdy Oxford nylon fabric
Internal division with 2 loop fields
Lightweight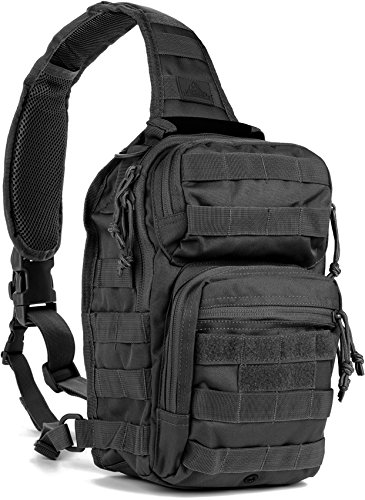 This popular backpack comes with a sling attachment that allows for quick and easy access. Besides, you can use both hands to access your items. It is tough, made in military style, and durable. The spacious compartments are enough to accommodate all that you need for a camping or hunting expedition. It comes with a safe and secure spot for your valuables such as a flashlight, smartphone, ammo, binoculars, food clothing, and first aid kit. The bag is available at Amazon.
Key features include:
Sling—for hands-free access
Nylon fabric with modular holders
Sturdy 600D Polyester construction
Spacious master compartment with internal closure sleeves
PVC lining on the inner compartment
Nine-liter storage space
This all-in-one tactical bag carries multiple pistols, food, clothing, and accessories. It has an ample room for your ammunition, pistols, magazines, tools, and cleaning supplies. Designed to bear the rigors of a hunting activity, this bag features 600D heavy-duty polyester, making it one of the best tactical bags in the market. The heavy-duty straps make it ideal for heavy loads while the adjustable inner compartment makes it easier to customize the space according to your taste. You can get the bag at Amazon at affordable price.
Notable features include:
Padded pockets for additional protection
Triple-stitched handles
Spacious main compartment—12 x 12 x 9 inches
7-Magazine front compartment
4-Magazine pouches in the back compartment
Cons: some users have expressed concern about durability
This tactical gear pack contains several pockets to put stuff. It is versatile with a lot of space, sturdy and rugged, making it ideal for any kind of outdoor activity. With thick, smooth zippers that don't snag and two zipper pulls, you can access your belongings quite easily. This bag is available at Amazon. Distinct features of this bag include:
Heavy-duty fabric—an assurance of durability and strength
Padded back—rests easily on your back
Waterproof—no worry about spills
Load comparison system on the front sides
Cons: some users have expressed concern about the location of the side strips.
This shoulder strap duffel backpack is ideal for tactical assault, hiking, camping, or military duty. The size and portability make it one of the best tactical bags in the market. With ample storage space and heavy-duty polyester fabric, this bag is durable and withstands the rigors of daily use. Visit here to find the bag. Here are prime features:
Interior waterproof PVC lining
Molle strap system on the side
Two side Velcro pockets
Made of hard plastic
This bag has been on the market since 1994. It offers excellent quality storage solution. If you want a tactical bag that offers an innovative way to transport your hunting essentials, the range master explorer is the go-to product. It features the best material with a partitioned interior for better organization. Besides, if you need more space, you can easily remove the partition to create more space. You can find the Rangemaster bag at Amazon. Key features include:
It is fairly priced
Unquestionable value
Laptop compartment at the back
Zippered exterior pockets for additional space
Rubber support at the bottom
A spacious compartment on the right side
Internal handgun and magazine storage
Modular design—100% polyester
This concealed-carry backpack is one of the best tactical bags available. It is ideal for hunting, hiking, or camping activities. It provides easy access to your gun and other accessories while on the go. The inner compartments can accommodate all your essentials including first aid kit, knife, flashlight, GPS, and mobile devices. The bag is available at Amazon.
Key features include:
Lightweight—easy to move around with
Sturdy, non-slip carry handles
Side pockets for daily essentials
Spacious main compartment for all your devices
Quick-release buckle
Main point to consider
A suitable tactical bag should reduce weight, prevent hurdles, and accommodate all your supplies. It is advisable to invest in multiple tactical bags to handle different outdoor activities. Before you purchase a tactical backpack, do a thorough research and find out more information on the best tactical bags in the market.
First off, you should read product specifications to see whether they meet your requirements. Reliable companies provide better and detailed descriptions of their products. It is equally important to read product reviews as they provide first-hand information from previous users. This can help you make an informed decision on a given product. A few main points to consider include:
External size
Storage capacity
Comfort
Accessibility
Material and durability
Budget
A reliable tactical bag is a friend that you can trust with your belongings during a hunting expedition. It should bear harsh outdoor elements and carry everything you need. If you would like to know more about best tactical bags for hunting, visit https://www.foremostcoyotehunting.com/.