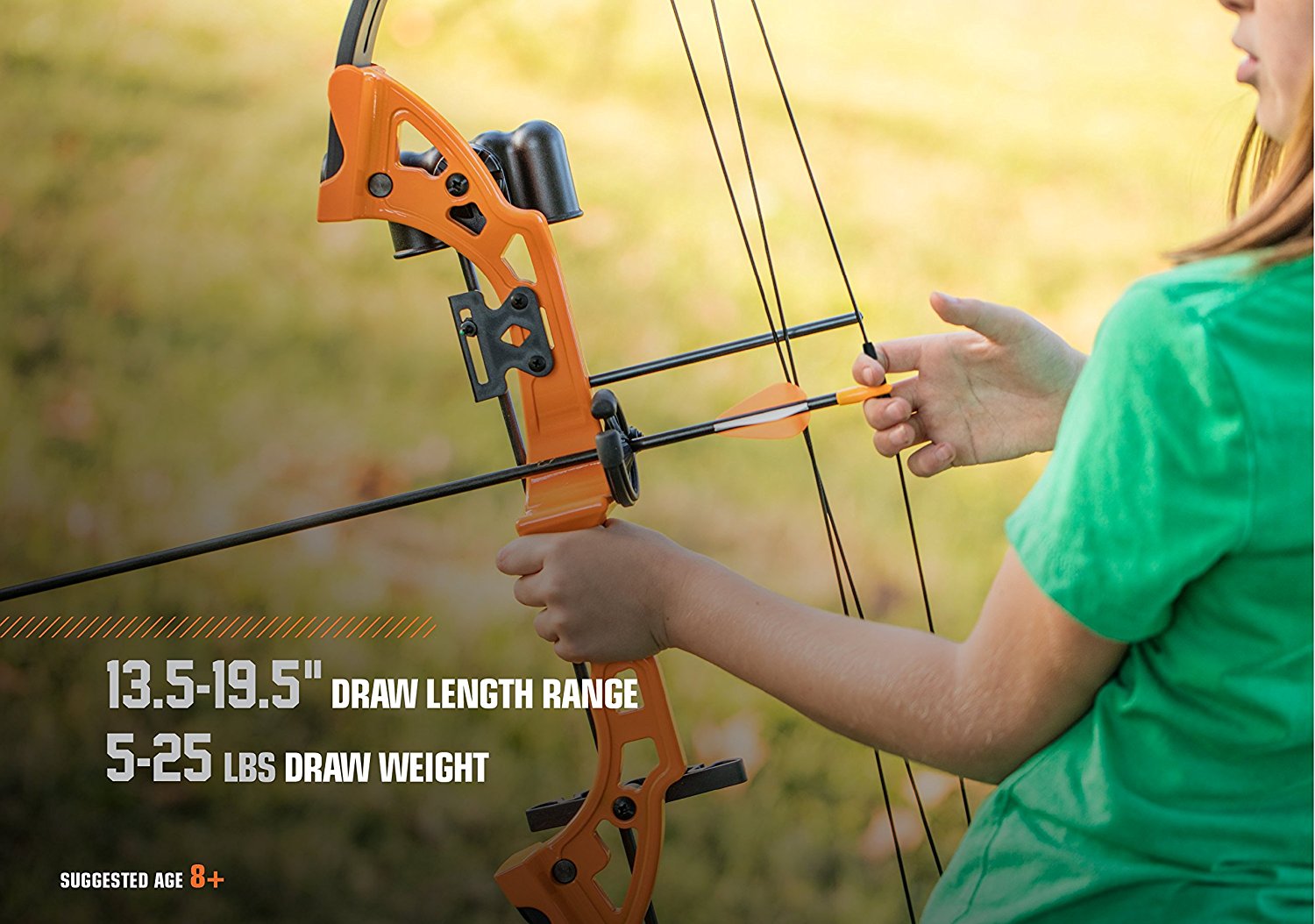 With the latest development in technology and video games, it's always good to see children put their electronics down and explore the wild world. Outdoor activities like archery are still a huge part of growing up, and help children develop physical fitness and skills.
Children who take up bows or crossbows tend to become perfect shots in the future. Having good aim and a good eye is an excellent skill for future workers and athletes. Specifically, archery is an excellent bonding activity for children and parents.
If you want your child to develop their archery skills, you'll want to provide them with the best youth hunting bows out there. Of course, when taking your youngster out to practice shooting, you'll always want to be available to supervise as archery is a serious and potentially dangerous sport, and the necessary tools are absolutely not playthings.
Before making a purchase, you'll want to take a look at the specific qualities that make a quality bow. Study the draw weight at full draw and bow let off to have a full understanding each bow before making a decision. Take a look at the top seven hunting bows available for aspiring child archers.
This lightweight 3.3 lbs. hunting bow is perfect to get your children interested in archery as a sport. It's relatively inexpensive but is an excellent value purchase for beginner or amateur junior archers. You child will be excited by the Elkhorn's impressive quality and similar feel of a full-sized adult bow. This junior bow has a draw weight of 17 to 21 lbs., making it an introductory bow for children eight years and older. It also has a maximum draw length of 26 inches, allowing for growing children to stick to using this bow for many years. This bow comes with two arrows, a quiver and a plastic armguard.
Pros:
Provides proper balance with heavy and durable compound limbs
Heavy duty string allows for use in extreme weather with little to no arrow deviation
The bow does not produce loud noises
The bow itself is comprised of lightweight composite fiber
Cons:
Predominantly for use by right-hander archers
Stock arrows aren't that great so you'll want to purchase additional arrows
You may need to create a nocking point on the string for consistency in shooting

Bear Archery is a popular bow manufacturer and has been in business for upwards of 80 years. They are known for creating high quality, top-tier bow sets for both beginners and advanced level archers. The Brave Bow Set is another introductory bow for aspiring children archers. Its shorter draw length of between 13.5 and 19 inches is the perfect fit for children as young as seven to use. Furthermore, it has an adjustable draw weight of 15 to 25 lbs.
Pros:
Different color selections
Composite limbs are durable
Water-repellant Cordura nylon prevents erosion
Cons:
Limited age use due to shorter draw length and weight
Only for young, right handed archers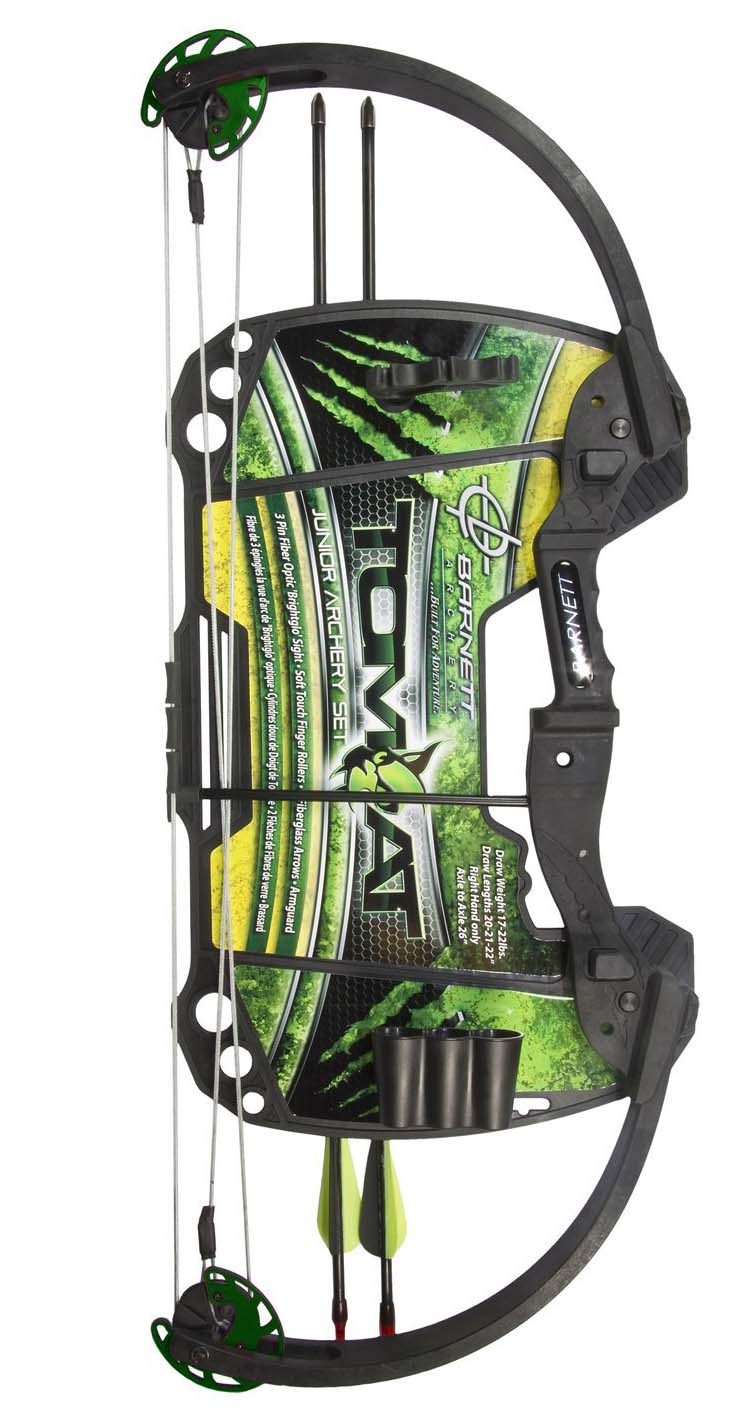 Another reputable brand, this Barnett starter kit for youngsters is a relatively inexpensive bow which will help them see how fun archery can be. This fiberglass 3.4 lbs. bow is intended for children of eight years and older. It has a draw weight ranging from 16 to 22 lbs. and a draw length of between 21 to 23 inches. This set comes with a finger tab, quiver, 3-pin bow sight and two arrows.
Pros:
Reinforced grip allows for easier handling
The bow is made of lightweight fiberglass
A cost efficient tool to introduce your children to archery
Cons:
For use by right handed archers only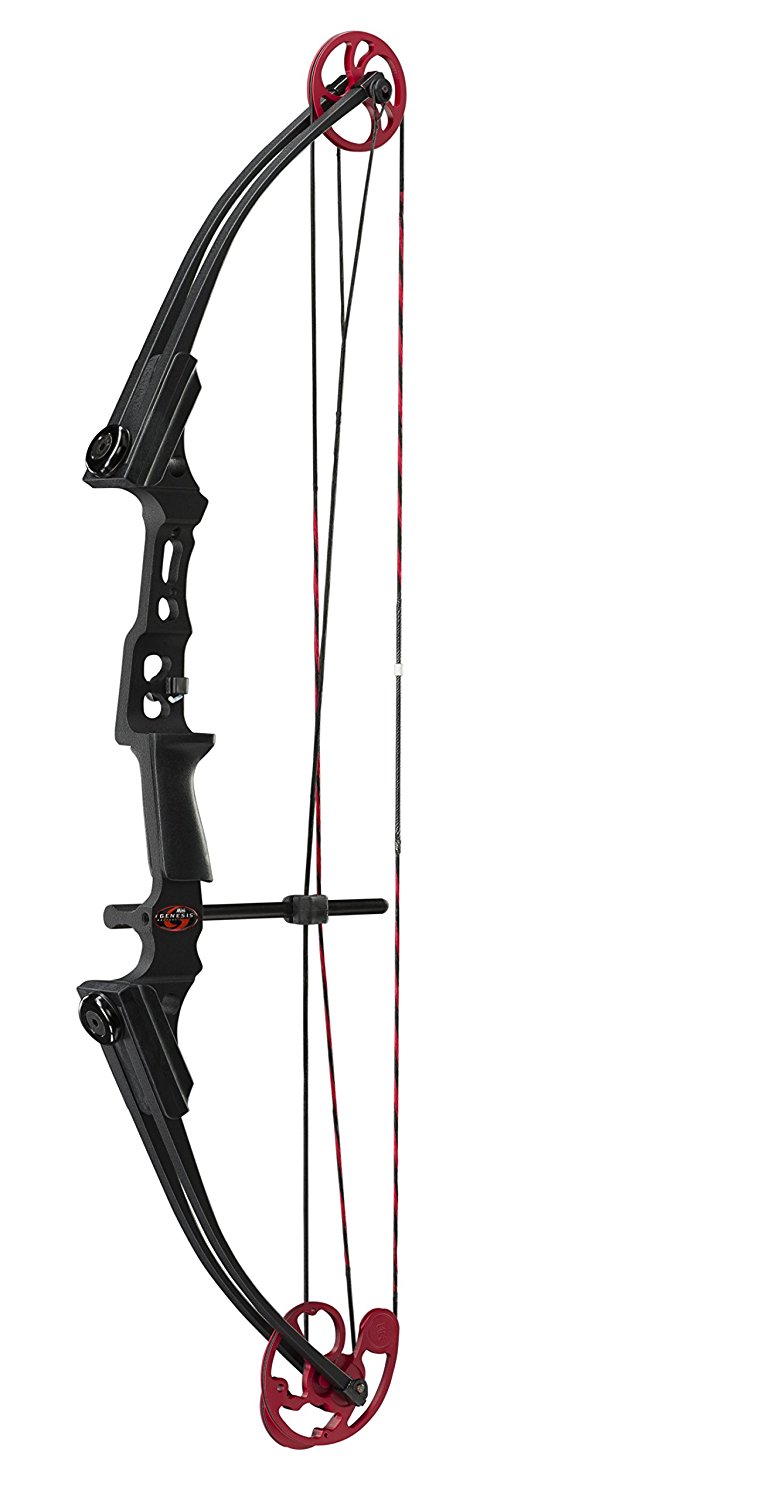 The Genesis Mini Bow is a lighter, smaller bow kit for beginner archers. There is zero let off which helps your young one to shoot more easily. It has a draw weight of 6 to 12 lbs. which allows even six or seven year olds to take this bow for their first practice shot. The draw length of the bow's cable ranges from 14 to 25 inches, meaning that your child will be able to use this bow for many, many seasons.
Pros:
0% let off
High quality and durable
Weight distribution, balance and draw length are perfect for very young beginners
Right and left handed options
Cons:
A costlier option for an introductory bow
Very limited draw weight
No additional accessories with purchase
Barnett makes a second appearance on this list with an introductory bow for older children. The Vortex's design imitates that of adult-sized bows, making your child feel and appear more mature when using it. The draw length of between 21 and 27 inches suits growing children, and it has a massive draw weight variance from 15 to 45 pounds. This combination suits children of eight years and older. In addition to the bow, you'll also receive a carry case, three arrows, quiver and a bow holder.
Pros:
Generous five-year warranty from the manufacturer
Relatively inexpensive
Heavy draw weight for hunting large game
Complete with additional accessories
Cons:
Limited 21- to 27-inch draw length for older children
Right handed archers only
May require a bow stabilizer to reduce the bow's vibration and balance
Diamond is a well-known manufacturer of high quality, high featured and low priced beginner bows. The Diamond Atomic is a flexible starter kit which accommodates your child's growth over several years. The draw weight ranges from as light as six lbs. all the way to 29 lbs. The draw length is also adjustable, starting from 12 to 24 inches. The glossy finish on the bow also gives it that look of class and quality, and it's available in a large selection of colors. The bow will come with a three-pin sight, capture-style arrow rest, three arrows and a quiver.
Pros:
High flexibility and adjustability
Essentially noise-free
Lightweight and easy to handle
Comfortable grip and perfect accuracy
Cons:
Expensive for an introductory bow
Stock arrows aren't that impressive
Right handed shooters only
Velocity doesn't play around with making archery equipment as you can clearly see from the Youth Archery Race 4×4 Compound Bow. It's not just any regular starter bow for children; it's a mini version of a high quality, professional archery bow used by adults. If your child is looking for a starter bow kit that can help them develop into accurate shooters, then look no further than at what Velocity has to offer. This bow has a draw length of between 19 and 29 inches, draw weight of between 15 and an impressive 55 lbs., weight in at only 3.2 lbs (with accessories). The bow can shoot up to 245 feet per second when drawing and pulling at its maximum length and weight. The bow comes with a three-point pin fiber optic sight, fall away arrow rest, four-arrow quiver, and two aluminum arrows.
Pros:
Capable of hunting large animals
High adjustability for growing and advanced children
Stylish appearance
Moderate hand torque
Cons:
Right handed shooters only
Only for children eight years and older