If you are planning on going on a hunting trip with a bow, then you should know that the backpack you take can make or break your trip. You want to take a bag that allows you to easily carry all your hunting gear and make your trip easier. We have picked out 3 bags for you to consider for your next hunting trip because they will make it a lot more convenient for you.
Our rating: 4.7 out of 5                            Price: $$$
Pros
Strong construction material
Exceptional space, 1950 cubic inches of storage
Padded back and shoulder strap
Cons
Adjusting the strap can be a task at times, not as smooth as we would have liked
If you are going on a short hunting trip and need a lot of room in your bag then the Badlands Superdry is the perfect choice. The bag allows for 1,950 cubic inches of storage which allows you to easily pack your hunting gear along with snack and a pair of extra clothing for your trip. It employs noiseless zipper which ensure you are in stealth mode throughout your hunt. As far as comfort goes, the material and padding on the bag ensure there is no strain on your back or shoulder while you carry this bag around.
The bag has extra pockets so you can easily carry additional things with you on your trip. It is constructed with durable material so you can expect it to last for years. Which makes this bag a smart investment for all those hunting trips to come.

Our rating: 4.6 out of 5                            Price: $$
Pros
Narrow bag with 2 side pockets that provide exceptional storage space
Great design, strong material employed for the build of the bag
Cons
The length of the bag is slightly more than we would have liked.
The Timber Hawk Killshot is another bag that provides users plenty of storage space and stealth. It has a narrow body which makes it easy to carry with two side pocket that provides additional storage space for those that need to carry more items. The bag comes with compression straps so if you are carrying a heavy load, they ensure stability. It also has a hydration bladder so if you get stuck in a tree stand that can prove to be helpful as it can hold up to 2 liters of water. The features of this bag make it a wonderful companion for avid hunters on their hunting trips.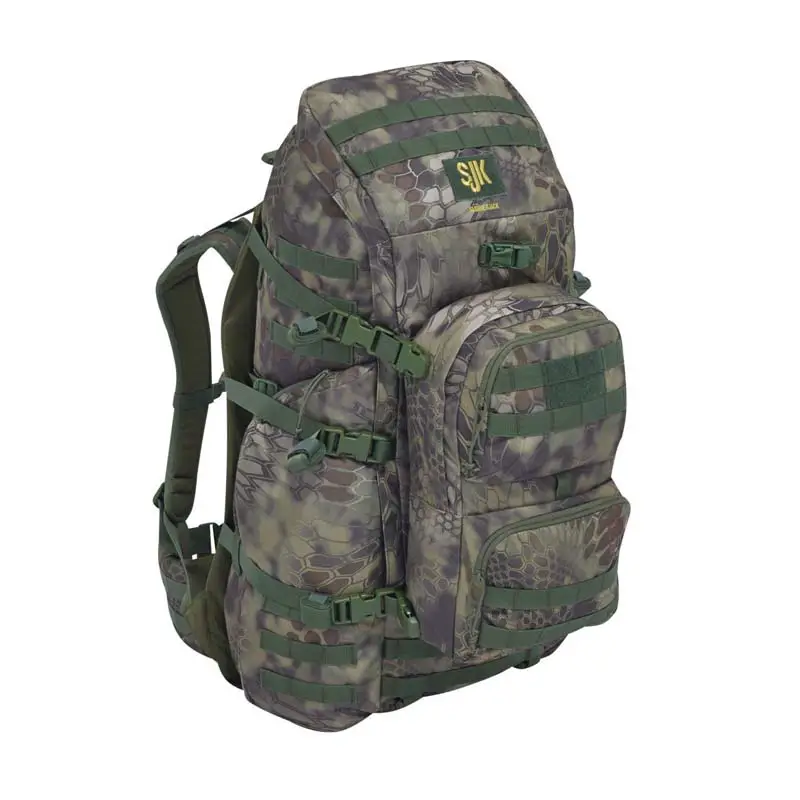 Our rating: 4.5 out of 5                            Price: $$$$
The most expensive bag out of the three, the Lumberjack Bounty 4500 is the perfect bag if you hunt larger animals like bucks and elks. Designed specifically for those that hunt a larger animal, this bag is perfect for higher elevations due to its durability and sturdy design. The material used to construct the bag is durable enough so the bag won't tear at any point of your trip, no matter how rough the terrain may be. While the bag is specifically designed for longer trips, it can be used for shorter ones also. It comes with exceptionally well padded back so you are comfortable when you carry it. We, however, did not like the padding on the shoulder and felt it was thinner than our liking.
Overall, if you enjoy longer hunting trips and hunt bigger animals then the Lumberjack Bounty 4500 is the perfect bag for you.