The state of Maine has some of the best hunting opportunities and spots in the United States. From big and small game to hunting foul, the diverse habitats in Maine are home to some of the most populated hunting zone. The North Woods of Maine are well-known for the efficient management of deer and bear numbers.
If you're planning on hunting in Maine for black bears, deer, moose, coyotes, and several other game mammals, then you'll need the latest information on how to prepare for your trip. First things first, we'll need to register for all of the required licenses and permits. This guide will focus on the license(s) you need to hunt, and also talk about several spots for big game and small game hunting, as well as bow hunting.
Licenses
Anyone who plans on hunting wild birds or other animals within Maine's state lines needs to obtain a hunting license. The type of license required depends on the age, residential status, and other factors of the hunter, but there are some exceptions to certain restrictions. In addition to the hunting license, depending on the individual species you wish to hunt, it is required that you have a permit.
Junior and Adult Hunters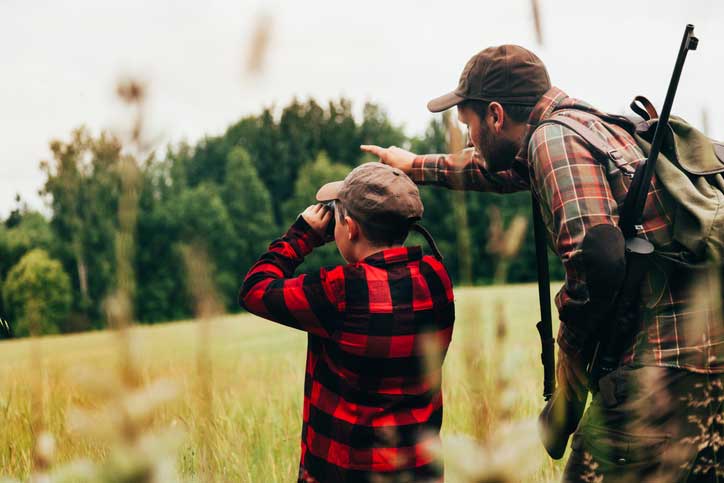 Any person under the age of 16 years must be in possession of a junior license. Anybody ages 16 years or older must have an adult license. If a junior license holder is turning 16, then their junior license will still be valid for the remainder of that year.
Exceptions
Any person who is accompanying or assisting with a hunt and is not in possession of a license or permit is allowed to tag along for the activity, provided that they do not hold or carry hunting equipment (with the intention of shooting) or drive a vehicle with an animal carcass.

Landowner Privilege
Landowners in main and their immediate family members are legally allowed to hunt on any piece of land they own without a license. They can use any legal firearm, bow, crossbow, or muzzleloader (permits for carrying and operating a weapon are required). However, this privilege is only extended to landowners who own a piece of land which is at least 10 acres in size, and the land must be used exclusively for agricultural activities. Hunters who have previously had their licenses revoked or suspended are not eligible to exercise this privilege. In addition, landowner privilege excludes moose hunting for which the hunter must have the appropriate documentation.
How to Obtain a License
Resident and nonresident hunters can register for a license directly from the Maine Department of Inland Fisheries and Wildlife (MDIFW) or purchased from agents. As for trapping licenses, they are issued exclusively by the MDIFW office and unavailable for purchase via their website.
Both residents and nonresidents can apply for a hunting license from the MDIFW in Augusta, Maine. Registration can be done in person, via online at the MDIFW webpage, or through the mail (for nonresidents only). Licenses are also for sale by agents. These agents are found throughout the state in sporting good stores, town clerks, convenience stores, and turnpike service centers. When applying for a license through an agent, you may be charged a $2.00 processing fee. Note that not every agent can issue nonresidential licenses.
A resident is defined as a citizen of the United States or an alien who has resided in Maine for at least one year who fulfills the following points:
If the person is registered to vote, then they must be registered in to vote in Maine
If the person is licensed to drive a vehicle, then they must have applied for – or already be in the possession of – a driver's license issued in Maine
If the person owns a vehicle within the state, then the vehicle must be registered in Maine
The person must abide by all state income tax laws
The person must either be a full-time student at a college or university in Maine or who has satisfied the previous requirements
A nonresident is defined as a citizen of the United States who does not meet the definition of a resident or alien. An alien refers to a person who is not a United States citizen.
Big Game Hunting in Maine
Big game mammals in Maine include, but are not limited to, black bears, whitetail deer, moose, coyotes, and bobcats. The state of Maine contains hunting spots in the country for shooting wild animals unlike any other place in the country. One of the best spots for hunting big game mammals is Northeast Whitewater Lodge & Guide Service.
Northeast Whitewater Lodge & Guide Service is a whitewater rafting company located nearest to Acadia National Park. They invite their guests to enjoy the scenery at Moosehead Lake – the largest lake in the state. It is found at the center of a wildlife-populated area considered one of the best hunting zones in the East.
Small Game Hunting
If you're interested in taking rabbit, fox, grouse, duck, pheasant, or turkey carcasses home with you then you'll need to visit small game mammal hunting zones in Maine. A well-known place for shooting small game mammals is Locke Mountain.
Locke Mountain Guide Service boasts their float fishing service at Upper Androscoggin River as well as rabbit hunting atop the snowy Grafton Notch. Their staff will happily and expertly guide you through a memorable outdoor experience, and hunters are pretty much guaranteed to bring a couple small game carcasses and pelts home as a hunting prize.
Bow Hunting
There is nothing that can match the energy of hunting with a bow or crossbow. If you enjoy this form of hunting, then you should know that Maine also has some bow hunting areas for hunters to enjoy. One of the most popular bow-hunting destinations is Maine Safari.
Main Safari is a registered guide for hunting whitetail deer and bears, as well as exotic species like bison, fallow and sika deer, and much more. They offer private lodgings with provided meals for the duration of your stay. Maine Safari can definitely be a reliable guide to take you on the bow or crossbow hunt of a lifetime.