Hunting in the dark is as hard as it is. Trying to make your way and find a coyote to hunt without the sunlight isn't easy. Luckily, you can use light, however, if you have hunted you know you can't take your ordinary flashlight to hunt. You need a nightlight and no, not the one you use in a room. There are night sights that are designed specifically to help you hunt and numerous different ones. We have picked out hunting lights that will help you on your hunt.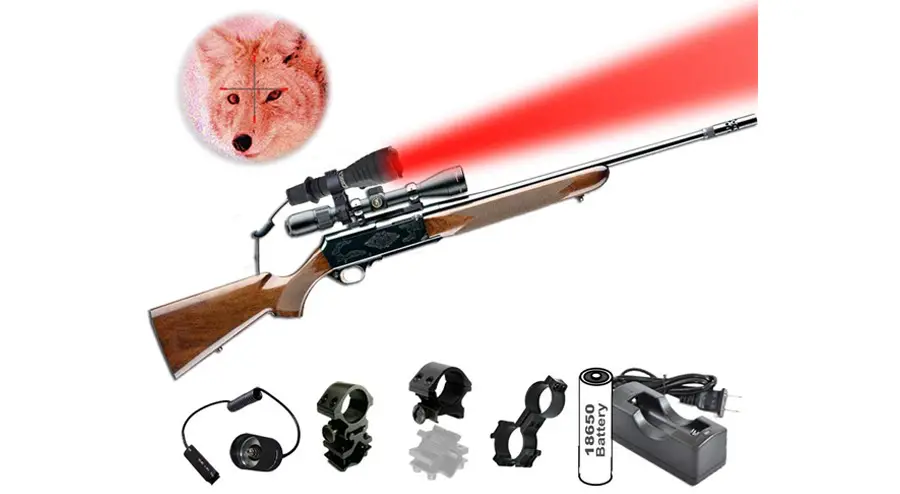 Our rating: 4.8 out of 5                        Cost: $$$
The Orion Predator H30 comes in two options, you can get it in a red or green light. It is durable and waterproof so you can stick it on your gun and practically forget about it. The range of the light is quite strong, it can reach up to 273 yards. You can also set the brightness to your liking, it has four different settings for it. The light comes with rail, scope, and barrel mounts so you can easily fit it on practically any hunting gun. The range, durability, and ease of use make this one of the better hunting lights in the market.
Our rating: 4.75 out of 5                        Cost: $$$$
The Predator Tactics Coyote Light Kit is a powerful light that will make hunting at night a lot easier. With a light that has a range of up to 325 yards, identifying your hunt is so much easier. You can also widen or narrow the beam of the light which allows you to see more or focus on what you want. You have the option to choose between three different LED: red, white and green. It also comes with different types of mounts so you can fit it on to your favorite rifle or gun.
Our rating: 4.5 out of 5                        Cost: $$$$
The Wicked Lights W403IC Red Night Hunting Kit is another light that has an amazing range, allowing you to hunt from a distance even at night. The light can allow you to see up to 300 yards away. It also has a zoom focus that allows you to narrow it down to target your kill with precision. The kit comes with red light, but you can change it for white or green. You also get all the items you would need to mount it on to your hunting weapon.
Our rating: 4.3 out of 5                        Cost: $$$
The Odepro KL52Plus Hunting Flashlight comes in four interchangeable colors along with the red, green and white light you also get an IR850nm light so you can easily find your hunt at night. The light comes with an adjustable focus so you can zoom and focus on your hunt or keep a wider light when you are scanning the field. You can mount the flashlight to your gun or use it as an ordinary flashlight.