If you have used electronic coyote calls, then you probably know that most of them in the market are just gimmicks. You won't find many that actually get the job done. But that shouldn't turn you away from using electronic coyote calls. Once you find one that actually works, you can drastically improve your hunting trips. To make your hunt for a reliable electronic coyote call, we have a list of them you can choose from. You can rest assured that these will be beneficial for your hunting trip.
       Our rating: 4.75 out of 5                    Cost: $$$$$
The FOXPRO Inferno is one of the most versatile electronic coyotes calls you will find. It comes with 75 sounds and gives you the opportunity to store up to 200 sounds. It also comes with an LED remote that lets you control the device from a range. The volume of the call is quite loud which is something you would expect from much higher-end products. Which is exactly why the FOXPRO Inferno is the perfect choice for anyone going hunting for coyotes.
Our rating: 4.6 out of 5                    Cost: $$$
The ICOtec GC300 is a durable, loud, and easy to operate game call at a reasonable price. It is a perfect tool to take with you as you hunt for predators. It automatically plays the call, 30 seconds after it is done playing. The remote isn't as fancy as the FOXPRO Inferno's but allows you to control the game call from up to 300 yards away. It is fairly loud too for its price range. The design of the game call is also very portable and it comes with a handle so you can easily carry it around with you on the hunt. Portability and great features are why the ICOtec GC300 is on our list.
Our rating: 4.5 out of 5                    Cost: $$$
Another reasonably priced predator call, the power and loudness is something you will be impressed with this one. If you have been in the hunting game, you would be familiar with Randy Anderson. The predator call features a dozen calls that were prepared by him. So you know the calls will get you results. You can also play two sounds simultaneously which gives you a bit more versatility. Overall, the predator call is reliable, portable and easy to use making it a great choice.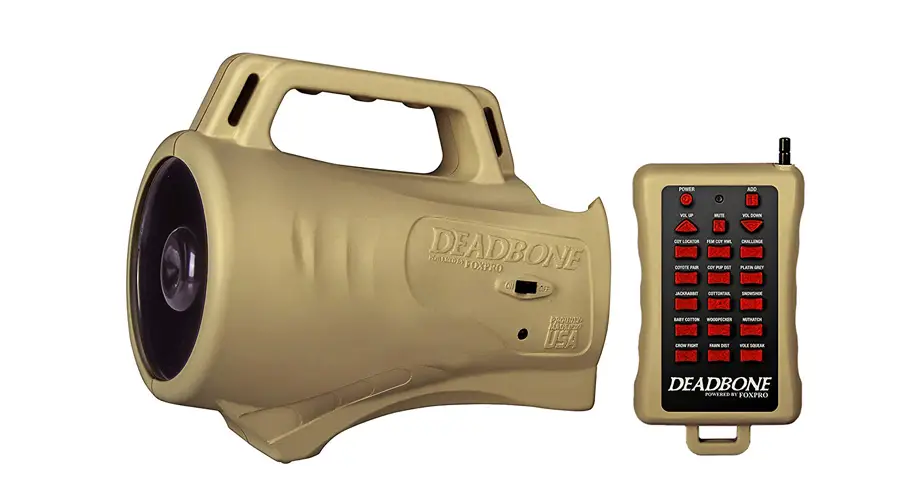 Our rating: 4.4 out of 5                    Cost: $$$$
FOXPRO Deadbone Electronic Game Call is not as versatile as the Inferno. However, it does work well as a predator call. It comes with 15 quality sounds, unfortunately, you are stuck with these. You have the option to play two sounds simultaneously and the horn speaker is highly efficient. It also comes with a remote which makes controlling it much easier. The overall design won't blow you away but the game call will get the job done in luring more predators.