Hunting gives you a feeling you cannot explain, it is the best thing to do on any holiday. Even for those guys who do not like waking up early in the morning or sleeping late, take them hunting and this will not be a problem as you will always be hyped and the more successful you are the more you will wish to keep going.
Coyotes hunting is a popular activity enjoyed by most people in the United States. If you are looking for fun, money or just protecting your land, it is important to know what you are doing. Safety and appropriate technology can make the difference as it can decide if you will go home with a coyote or leave empty handed.
Coyotes hunting requires you know weather conditions, temperatures, flow of the wind.  For example if there will be a cloud or sun, rain or snow, wind or quiet. Every detail of the air pressure is considered when trying to build a library of knowledge and experience hunting.
Some hunters have it easy. With large tracts of land without other hunters to distract them, which can be as easy as going out in a field, call a coyote and you kill it in minutes. For most hunters, but this is not a luxury we have. Some parts of the country are small and well run, which is often pleasant for Coyotes, as they can easily escape and pick only on simple meals. If you are in In situations like this, it is important to get your technique polished so as to ensure success in your hunting. Here are the best coyote hunting tips to consider when hunting coyotes:
Exercise Patience
The most important thing to remember when it comes to hunting coyotes is to be patient. This is not an easy task. Skill and patience will make you kill a coyote. So do not rush the process just stay put wherever you hiding eventually the Coyote will appear.

Try Being vocal
Vocalization can be a great way to finally trick the Coyote to deceived person with a gun. By being something like a lonely howl with patient, you can once call every few minutes, the Coyote will be tempted to try and find out what is calling and then you will have your chance to either kill it or trap it.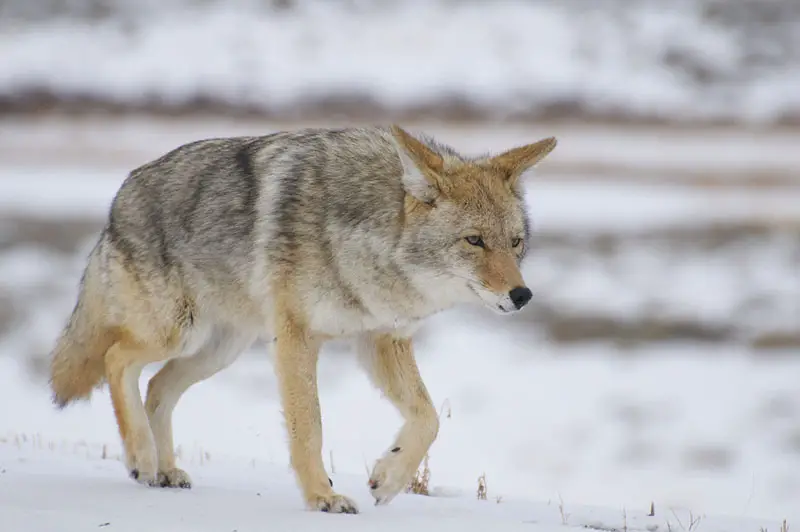 Night hunt
This is considered one of the best ways to hunt coyotes. It is advisable to hunt at night, rather than during the day. One reason is that at the night, the wind tends to be silent to minimize the chances that your smell will be detected by coyotes, can be easier to hide at night than during the day. All you need to do before you have to do hunting at night is to learn some techniques, such as;
Scanning
The selection stand: give each stand 20 to 30 minutes stand. Most of the time the coyotes may turn up within 5 to 10 first minutes. But this is not always the case. Give each moment stand to work
Light color
Set yourself Up properly
Yes! you will have to sit on the floor and feel comfortable and be like a hidden sniper in a special operations. Remember that a coyote can see you even better at night because it has such capabilitie to clearly see in the night. If you drive at night, take the bait with your gun mounted light coyote to conceal the cover as you would normally do during the day.
Correct positioning of the stack bait
You must use the land well know where to put the pile of baits. You should know that the correct placement of the stack of baits could mean the difference between catching the Coyote or returning to your truck head defeat.
Do not stack bait
If you are hunting and shooting or catching a coyote, you should be picked up immediately and get your coyotes as fast and as quiet as possible and bring them to your car. A bunch of bait call is something most hunters do, it can sometimes be effective, but if not everything is perfect, can quickly reveal the trap and prevent the coyotes from entering the trap. Try using electrical coyote calls
Use Electric Calls
Electronic calls coyotes can also give you a great advantage in hunting. Its ability to store and use different sounds and ease of use is equal in the world of hunting. Plus if you are a beginner on this game then you will not want to mess as it will be even more difficult for you.